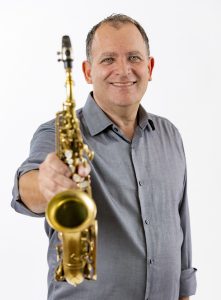 Michael Zilber, described as "one of the best players and composers around anywhere. Period!" by NEA JAZZ MASTER and jazz legend David Liebman, is an SF-based saxophonist and composer. All About Jazz enthuses "Zilber is one of the true masters of the modern jazz saxophone, his prodigious talents evidenced by his recordings and live performances are truth."
On this website, you can find out about and get Michael's many recordings, learn about upcoming performances, and much more.
Zilber's EAST WEST: Music For Big Bands is the saxophonist/composer's latest on Origin Records, released November 15, 2019.  Tackling an ambitious, once-in-a-lifetime project with two big band recording sessions – one in New York, the other in San Francisco – Zilber gathers from his extended music community two groupings of powerful, empathetic musical voices, their collective commitment to support, share and create shining through these 14 tracks. Featured are 8 Zilber originals and 6 of his arrangements of classic songs, including "Joshua," "Fall," "Skylark" and "Somewhere Over The Rainbow." Leading Jazz Journalist Andrew Gilbert says  "East West – Music for Big Bands embraces multiplicity. It's not either/or, it's and/also. It's beauty AND burn, intense swing AND sweet balladry, all united under Zilber's commanding and ever expanding creative purview."
You can check it out and pick up a copy right here on this site.