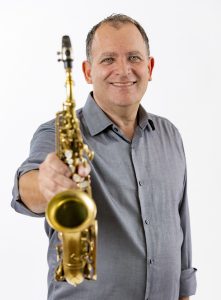 Michael Zilber, described as "one of the best players and composers around anywhere. Period!" by NEA JAZZ MASTER and jazz legend David Liebman, is an SF-based saxophonist and composer. All About Jazz enthuses "Zilber is one of the true masters of the modern jazz saxophone, his prodigious talents evidenced by his recordings and live performances are truth."
On this website, you can find out about and get Michael's many recordings, learn about upcoming performances, and much more.
Available now, Michael's collaboration with legendary drummer Mike Clark: Mike Drop.  Take a listen and buy a copy here:
The culmination of a decade-long musical relationship, Mike Drop is an impressive new album co-led by iconic jazz drumming legend Mike Clark and renowned saxophonist Michael Zilber. Mike Drop features these two consummate players alongside two top Bay Area stalwarts bassist Peter Barshay and pianist Matt Clark. Recorded at Oakland's 25th Street Studio in 2018, the tight-locked group created a buoyant celebration of time and place that is both significant and swinging.
Mike Drop demonstrates the mastery of two jazz veterans — between Mike Clark's straight-ahead post bop drumming and Michael Zilber's raw and refined sax mastery, the clarity and brilliance of this release is the rewarding product of a ten year-long friendship between the artists and an inspiring week of performances in the Bay Area. Mike Drop features a blend of the tunes drawn from the group's successful series of gigs in the region back in 2018, including a sold-out performance at the San Jose Winter Jazz Festival. To preserve the charm they found together on stage, the group decided to record together in Oakland a week later.
Clark and Zilber take on a varied program on Mike Drop which includes two Zilber originals: "Barshay's Fly", a loving tribute to virtuoso bassist Barshay which features outstanding solos from all, and "Sonny Monk", which is his melodic/harmonic homage to Sonny Rollins' iconic solo on "Tune Up". Zilber infuses a little bit of Monk and four notes from "If I Were A Bell" on this standout hard swinger.
The band also presents two reimagined Lennon/McCartney classics, both part of Zilber's ongoing project "John and Paul Reimagined." "Blackbird" provides a rhythmic and harmonic renovation to the McCartney-penned gem while allocating space for two uplifting extensions, first from Clark on piano and afterward, Zilber on saxophone who guides listeners back to the chorus. Zilber's arrangement of "Norwegian Wood" morphs Lennon's brief nod to an affair into an entirely new one, lengthening the notable ode to a melody in six different keys; an effect Michael Brecker dubbed "Zilberization."
Other highlights include the group's interpretation of McCoy Tyner's "Passion Dance," with a radiant opening drum solo that gives way to a funky beat, and rapid fire solos; a sweet and restrained performance of Duke Pearson's "You Know I Care"; a haunting ethereal rendition of Wayne Shorter's rarely recorded masterpiece "Miyako", on which Clark's sparkling cymbal work shines; the bass showcase "Monk's Dream", which was arranged by and is expertly performed by Barshay; and the joyful closer "Falling In Love With Love", a true burner on which the band lets loose. On the project, Mike Clark offered that "…we want the listener to feel that the music is swinging, conversational and forward-looking." It's safe to say that on Mike Drop, it's mission accomplished!