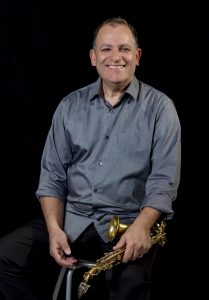 San Francisco Bay Area based saxophonist and composer Michael Zilber is described by NEA Jazz Master David Liebman as "one of the best players and composers around anywhere. Period!" The Canadian-born ex-New Yorker has 11 albums to his name as a leader or co-leader. He has performed and/or recorded with many jazz luminaries over the years, from Liebman to Miroslav Vitous, Mike Clark, Steve Smith and Bob Berg, to name just a very few. Says ALL ABOUT JAZZ,  "Zilber is one of the true masters of modern jazz saxophone, his prodigious talents evidenced by his recordings and live performances are truth."
Zilber co-led a band with drumming great Steve Smith for eight years, releasing the top 20 recording Reimagined: Jazz Standards, Volume 1 in 2003. For the past decade, he has teamed up with guitar virtuoso John Stowell, most recently on 2016's Basement Blues, which All About Jazz's Dan McClenaghan calls "as compelling and modernistic and compelling as any group out there," hailing Zilber as "soulful and flawless". Their 2015 Origin Records recording Live Beauty, made DownBeat magazine's "best of the year" list for 2015, as well as garnering rave reviews from JazzTimes and All About Jazz. This was a follow-up to the group's Shot Through With Beauty, which NPR jazz critic Andrew Gilbert picked as a top 10 record of the year. On Turning Ten: The Billy Collins Project, providing musical settings for the American Poet Laureate's poems, was hailed by famed jazz journalist Bill Milkowski as a "work of art of the highest order."
Zilber's  "Originals for the Originals" project, a 2017 Origin album release of the same name featuring high-profile sidemen Dave Kikoski, James Genus and Clarence Penn,  received numerous rave reviews, and, as ALL ABOUT JAZZ's Paul Rauch opines "Originals For the Originals is a top 10 of 2017 candidate without a doubt."  It was also a top 5 CD on KPFA's year-end list.  Zilber also leads a project called Weather Wayne, his electric jazz homage to Wayne Shorter, recently playing to a sold-out house at SFJAZZ.
His latest release,  East West: Music for Big Bands is a beautifully packaged double CD. release November 2019, it is the saxophonist/composer's latest  on Origin Records. On  East West, his 12th CD as a leader, Zilber tackles an ambitious, once-in-a-lifetime project with two all-star big band recording sessions – one in New York, the other in San Francisco.  As described by leading Jazz Journalist Andrew Gilbert, "East West – Music for Big Bands embraces multiplicity. It's not either/or, it's and/also. It's beauty AND burn, intense swing AND sweet balladry, all united under Zilber's commanding and ever expanding creative purview.
Zilber is also a sideman in or part of a collective in various prominent projects, including  Bass virtuoso Kai Eckhardt's The Resilience,  drumming legend Mike Clark's "four…and more", top Trumpet/composer Erik Jekabson's Stringtet, and playing in and writing for SF-based Electric Squeezebox Orchestra. This highly acclaimed composers' big band has released 3 CDS, including Cheap Rent, receiving 4.5 stars in DownBeat. In Berkeley, California, he leads the multiple DownBeat award-winning Jazzschool Jazz Workshop, as well as overseeing the composition program and teaching ensembles at the California Jazz Conservatory. Zilber holds a Doctorate in composition from NYU.