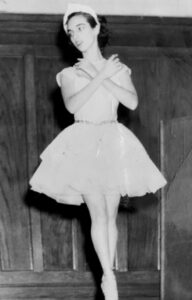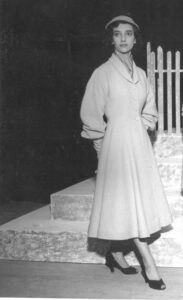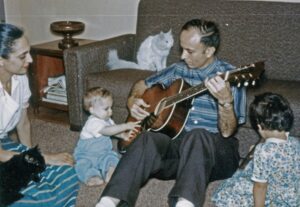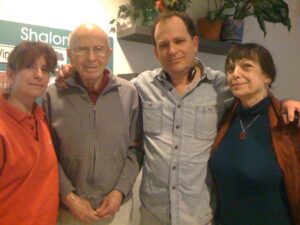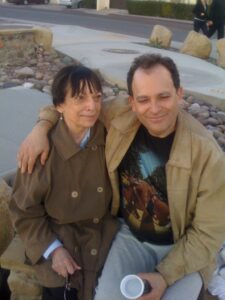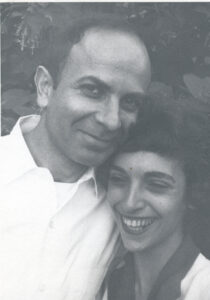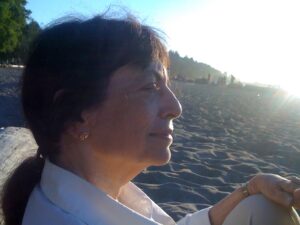 My mother was a dancer.  During one of the final few days of her life, as she was coughing in the hospital before we brought her home to be comfortable and calm surrounded by my sister, me, my wife and loving caregivers, as they were trying to stabilize her, one of the things that would calm her was music. I played her a bunch of different things, from Sinatra to jazz, Chopin, Beethoven, some sweeter songs of mine I knew she liked, and it always soothed her.  One song I played for her was To A Summer's Day, based on the Shakespeare Sonnet,  At the end of it, her eyes still partly closed, she told me "I really like that one. It makes me want to dance."  And she, wheelchair bound and with oxygen tubing in her nose, executed a graceful arc with her arms that would have made any ballerina proud.  
On May 17, at 6:00 AM, my mother, hands held by my sister Julie and me, was in her last minutes, breathing peacefully and softly, with my wife Dioni, one of her beloved caregivers Cheryl and the palliative nurse quietly in the living room of her apartment (along with her cherished cat Tigger). I sang "Dedicated to you" for her while my sister and I hugged and held her, as she loved Coltrane, and she slipped the surly bonds of earth. I am, at once, heartbroken and so glad she is not suffering, and am profoundly grateful that my sister and I were at her side telling her it was alright to go.
She was beautiful, my mother, shy, sometimes prickly, always caring, loyal beyond measure.  She was many things:  A math teacher, a fashion designer, a 3rd generation New Yorker (North Bronx and then Kew Gardens, Queens-raised, but always pointed out she was born in Mt. Vernon), grateful child of Phil and Nona, adoring wife for 58 years of her knight, writer Jake Zilber, proud and loving parent to my sister Julie and me, and generous Grandma to her grandchildren.  Musical, always in a happy trance with music she loved, which ranged from Beethoven to Chopin to Gershwin to Sinatra.  Always honest, sometimes blunt, but like a tootsie pop, a very soft center, generous, smart as hell and ethical. But as her memory receded and she basically recalled her first 20 years (3327 Fenton Avenue, she would proudly remind me), was her first house in the Bronx after they moved from a small apartment around the corner at 3476 Corsa Avenue, and how happy she was when Dioni and I visited both places last June and sent her pics and video of the proud single-family brick row house that still stood, well-kept in a working-class neighborhood just off Boston Post Road (a mile bus ride North of the Gun Hill Road stop of the 5 train, so she would save the nickel by walking down to school and taking the free bus back, using the nickel for a candy bar)…as her memory receded, what came more and more to the forefront was the intense period of ballet training she undertook starting as a pre-teen, moving to a scholarship to a prestigious dance studio by Carnegie Hall.  So after school for 5 or 6 years, Mom would get on a bus in the North Bronx, take it to the train, and trek down to the ballet lessons, a 1 hour ride each way, then take 2 hours of ballet classes "5 hours on weekends" she reminded me. When they moved to Kew Gardens in Queens when she was 15, she continued, taking the F train (or was it the E?) To Carnegie Hall environs.  Mom was always honest and not at all one to brag, either about herself or her kids, so when she told us she thinks she could have been a Corps dancer in a company but not a soloist? I believe her.  Of course, life got in the way, since her father put his foot down, thinking a career as a ballet dancer was no life for his daughter, and insisted she either get a job or got to school. Gramps was no villain at all, but he just didn't see it, like so many parents from that era. So Mom went to the Fashion Institute of Technology, where she excelled, as you can see from the beautiful coat she was modeling (and yes, she could have been a model as well). Then she used her sewing skills to get a gig working with what we would call at risk youth at Godard on the East Side of Manhattan back when at risk youth abounded there. And yes, that is where, after annulling a brief marriage to a fellow ballet dancer, she quickly fell in love with my Dad, a social worker there, who I suspect may already have been in love with her.  Within 6 months of their first date they were married, and both of them remained in love as long as my Dad was alive, 58 years worth of mutual affection and respect.  
The irony that my mother, a dancer and math teacher, married a writer who, while an excellent athlete, never danced and had no fascination for figures (other than my Mother's), well, once more, the truism that seeming opposites can attract, was born out once again.  But both were strikingly decent people, never two-faced, and I never saw or heard either one of them say an insincere thing. They both celebrated the arts and encouraged my sister and me in whatever we wanted to try our hand at, and not one time did they tell me to find something to fall back on. In fact, they were there for concerts and music lessons, and always encouraged me to do music. So much so that, in my first semester in Boston at the New England Conservatory, taken out for dinner by my Mom's sister and sister's husband for a dinner, I was just confused at the "so what are you planning to fall back on if music does not work out?" question from my Uncle.  It had simply become a given in my family that I was going to pursue a life in music, and I have.  In fact, when I was 12 and had already shown a real aptitude for saxophone, I wanted to quit that summer, since I wanted to play basketball and just hang with my friends. My Mom always reminded me that I could, but I would need to tell the tall and imposing German itinerant band director myself.  Discretion was the better part of valor, and I will always be grateful she did that, since the sax thing worked out alright and I definitely did not have the hops for a pro hoops career!  
My father wrote a lovely play called Verbrentte Soup, and in it there is a couple consisting of a struggling 30-year-old writer and a slim and distracted ballet dancer wife of 21, with a constantly crying colicky baby (aka Jake, Alice and my older sister Julie), all living in a sweaty dank 5th floor walkup in Brooklyn.  The writer figure says at one point "If I could, what I'd really LIKE to do, is sit home all day and write one act plays."  And Dad did get a version of that, co-founding the Creative Writing Department, and like all of us who get cushy tenured gigs in our chosen pursuit, got to spend as much time as he wanted writing what he wanted to write, (like me in music and many others, but shhh, don't tell anyone).  
But my mother? She loved being the head of her HS math department, loved her life and her house, and was immensely proud of her marriage and her children. But I believe this to the core of my being that at the core of her being, she was a dancer.  At the end, I think Mom spent much of her time dancing graceful pliés and jetés in her head, and to paraphrase my Dad, I think my Mom might have said "if I could, the one thing I'd LIKE to do is dance."  And you know what? My Dad would have been delighted if she had. There were no regrets for my Mom, since I believe she felt lucky with the life and family she had, but I imagine that in some parallel universe my Mom is dancing while we, her family, raptly and lovingly watch.  Maybe my Dad even joins her for a number…
I have heard that every now and then, and then again
Moon and stars are dancing in the wind, they spin and and spin and spin and spin.