Thanks to Jazz Times and Mike Joyce for the kind review of Shot Through With Beauty. Much appreciated…
http://jazztimes.com/articles/28628-shot-through-with-beauty-john-stowell-michael-zilber-quartet
---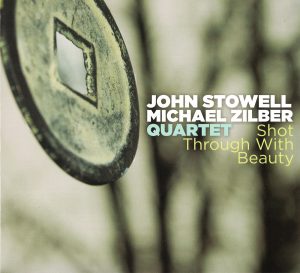 Jazz Reviews: Shot Through with Beauty by John Stowell/Michael Zilber Quartet — By Mike Joyce — Jazz Art
jazztimes.com
10/2011
Shot Through with Beauty


Origin Records
Fans of John Scofield's '90s recordings should find much to enjoy on Shot Through With Beauty, and not merely because the album features a new quartet led by guitarist John Stowell and saxophonist Michael Zilber personalizing two sharply contrasting Scofield compositions, "Wabash III" and "The Beatles." The former tune boasts an arrangement with twisting harmonized lines, guitar and sax solos that shrewdly bridge R&B swagger and postbop dissonance, as well as a rhythmically lopsided funk spin—courtesy of bassist John Shifflett and drummer Jason Lewis—that won't quit. "The Beatles," on the other hand, is comparatively subdued: sleek, insinuating and atmospheric, at least until Zilber's impassioned soprano turns up the heat.
When the band tackles tunes by Kenny Wheeler ("Kayak," with Zilber on tenor sax) or Dizzy Gillepsie ("Con Alma," as spacious as it is soulful), it's not hard to imagine Scofield himself admiring the fresh perspectives and intuitive interplay that develop. Stowell's bandmates also keep a series of worthy compositions coming. In addition to penning the album's title track, a ballad that lives up to its billing, Zilber contributes three tunes that are always enjoyable and quite often intriguing. ("Tender," the album's unaccompanied tenor coda, is one such track.) Shifflett's coiled "Quantum Theory" and Lewis' resonating portrait "In the Park" inspire similarly colorful interludes.
Stowell doesn't add to the playlist, but there's no mistaking his remarkable prowess and sensitivity on electric and acoustic guitars—or the fun he's having in this highly interactive setting.