A Los Angeles native based in the Berkeley area since 1996, Andrew Gilbert is the preeminent jazz journalist and critic in the Bay Area, and he covers jazz, international music and dance for KQED's California Report, The Mercury News, San Francisco Chronicle, Berkeleyside and other publications.  The following is his piece on Michael Zilber East West – Music for Big Bands, the Origin Records Double CD release which was released on November 5th, 2019. 
The truth is that Michael Zilber can't be defined by a simple g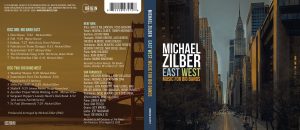 eographic duality. The saxophonist contains multitudes as a composer, player, arranger, educator, bandleader and collaborator who's created a far-flung discography featuring some of jazz's greatest improvisers. But the power of proximity can't be denied, and his aesthetic has been shaped by the company he keeps, from his British Columbia upbringing to his formative years in the cauldron of New York City to his longtime California residence in the East Bay. His consistently captivating two-disc album East West – Music for Big Bands, slated for release by Origin Records on November 5, 2019, features two distinct orchestras recorded in New York City and San Francisco. His first big band project after 11 previous albums as a leader or co-leader (with NEA Jazz Master Dave Liebman, drum maestro Steve Smith, and guitar great John Stowell), East West is a project designed to explore the contrasting sonic modalities that Zilber has experienced on the two coasts. 
"There's more of a sense of urgency with the New York band and more of a feeling of contemplation and space with the Bay Area band," he says. "I wanted to make an album that reflected both of those feelings. I wanted to represent the two sides of myself."
A post-Coltrane master who's been a creative catalyst on the Bay Area jazz scene for nearly three decades, Zilber conjures an expansive array of moods and textures with the two ensembles. Whether dexterously tearing through a thicket of Coltrane changes or taking the requisite time to caress a haunting melody he's always telling a story, playing with a narrative drive that's shaped by his luminous bronze tone, rhythmic prowess and harmonic insight. 
While fully acknowledging the somewhat self-fulfilling nature of the project ("I picked the tunes for each band that lent themselves to the East Coast and West Coast approaches," he says), Zilber is less concerned about coastal clichés than with revealing different facets of his multifarious musical persona. Often typecast as a post-bop burner, he may embrace the hard-swinging approach with his New York confederates, while reveling in ravishing lyricism with his Bay Area comrades, but he and his mates from the two coasts show they are equally at home with beauty and burn. Both ensembles feature some of jazz's most exciting and accomplished players. 
Working closely with Dave Liebman drummer Marko Marcinko, trombonist Doug Beavers, and pianist Mike Holober, a close associate from his years in New York, Zilber assembled a 16-piece New York ensemble that includes heavyweights like altoist Todd Bashore (Christian McBride), trumpeter Freddie Hendrix (Village Vanguard Jazz Orchestra), Grammy-nominated trombonist Alan Ferber, and Grammy-winning bassist John Benitez. The similarly bi-coastal (and Grammy-winning) Beavers is also part of the 17-piece San Francisco band, which bristles with world class improvisers such as saxophonists Dann Zinn and Sheldon Brown, trumpeters Mike Olmos and Erik Jekabson, pianist John R. Burr, and guitarist Jeff Massanari. 
Both bands focus on Zilber's original compositions, pieces often conceived as tributes to his musical heroes inspired by particular recordings or tunes. The New York session opens with his "Fantasia on Trane Changes," a piece that takes a kaleidoscopic ride through the tenor saxophonist's famous harmonic progression (a search that culminated with "Giant Steps" and "Countdown") with six modulations over the course of 96 corruscating measures. Borrowing the form of "Inner Urge" while reversing the chord changes, "Hen House" crackles with the sly wit and surging soul of Joe Henderson. And "Breakfast Club," based on a fragment from one of Chick Corea's Three Quartets, offers a potent reminder of Michael Brecker's preternatural prowess. 
"It's based on the first two lines of a Brecker lick that's almost impossible to play on tenor, a rapid-fire line he takes up way into the stratosphere," Zilber says. "I figured the only way I'm going to learn it is to write a tune that uses it. The melody is based on fragments from Brecker solos. It feels like something that he might have played on harmonically, and it's my tribute to Mike. We all love him and miss him so much."
Like several of the pieces on the San Francisco session, these tributes are expanded versions of tunes Zilber recorded on his acclaimed 2017 Origin album Originals For the Originals. But he's just as effective putting his own stamp on seminal jazz standards, like the arrangement of Wayne Shorter's "Fall." The piece uses the original melody and harmonies as a point of departure before an Afro-Cuban-tinged passage featuring some torrid trombone work by Beavers and a series of spiraling counter lines framed by a lovely undulating chorale featuring Zilber and brass at the start and and trumpeter Chris Rogers and brass at the coda (a lyrical passage that would have fit neatly on the SF session). Victor Feldman's "Joshua" has never sounded quite so funky as Zilber's hip-hop inflected groove gives way to a riveting drum and bass interlude between Benitez and Marcinko. 
Zilber leaves no doubt that we've entered a very different realm on the San Francisco session, which opens with"Weather Wayne" (which was also the name of a band Zilber led for several years). The piece evokes the sound and vibe of Wayne Shorter's genius filtered through Weather Report. Zilber's soprano sax on this and Fall remind us of his unabashed affinity for Shorter, one that earned him the nickname "Wayne Boy" from jazz great Liebman in the mid-1980s.  There is some particularly supple drum and bass work by Jeff Marrs and Dan Feiszli, the latter also having mixed the New York session. From the Shorterverse Zilber summons a different realm with Harold Arlen and Yip Harburg's immortal theme "Over the Rainbow." Featuring a soul-powered vocal by Joe Bagale (aka the billion-streaming YouTube sensation Otis McDonald), the track sounds as if Dorothy longed for Muscle Shoals rather than Kansas. 
The exquisite ballad "Another Prayer" conjures the numinous spirit of John Coltrane, departing from "I'll Wait and Pray" by way of a very tender tenor stating of the melody by Zilber and the rhythm section and gradually descending on a sumptuous Mike Olmos flugelhorn solo by way of an orchestration reminiscent of Nelson Riddle's orchestration from Sinatra's "You'll Never Walk Alone." Speaking of sublime balladry, Zilber's arrangement of Hoagy Carmichael's "Skylark" is a journey to remember. The beloved melody is untouched, but propelled by a gentle marching groove and recalibrated harmonies the tune turns into an epic migration, hither and thither chase that turns into a trombone chorale. This is a bird of a different feather. 
"If you're going to do a tune like 'Skylark,' you need to find a way to make it your own," Zilber says. "You need to find your own turf. Honor the original but put your own stamp on it, your own flavor."
If the album has an emotional core it's "Shiva For Shifflett," a quiet meditation on the life and spirit of South Bay bassist John Shifflett based on his burning tune "Quantum Theory." An invaluable Zilber bandmate and ubiquitous Bay Area sideman who died in 2017, Shifflett possessed an extra dry sense of humor, and he'd surely appreciate Zilber transforming his turbo-charged piece into a spacious, becalmed ballad featuring some poised and lustrous Feiszli bass work. 
"John was in my group Steve Smith for five years and the group with John Stowell with Jason Lewis for 10 years, on several of my tours and on half of my 12 CDs" Zilber says, while also noting that Shifflett anchored four of six previous Origin releases, three co-led with John Stowell and Eleven On Turning Ten, a project setting the poetry of Billy Collins to music. "His playing was strong, empathic, solid, creative and musically appropriate, and he sounded great with anybody. His passing was a huge loss to the SF jazz scene."
The album closes on another unapologetic blast of beauty with "St. Paul," a loving hat tip to altoist Paul Desmond based on the opening phrase of Johnny Mandel's "Emily." He designed the piece to feature his Electric Squeezebox Orchestra sectionmate Larry de la Cruz, a stalwart Bay Area saxophonist who should be better known. In many ways Zilber would never have undertaken East West without his involvement in ESO, a stellar Bay Area band led by trumpeter Erik Jekabson (with two acclaimed releases on Origin). 
As a founding member of the orchestra, Zilber suddenly found himself with a growing body of material written or arranged for a big band. Though he's a dauntingly prolific composer with some 3,000 pieces to his credit, this was a new situation. "I was never a guy who woke up in the morning thinking I want to write for big bands," he says. "Early on we had a regular gig at Doc's Lab in North Beach and Erik encouraged everyone to write. It was a great way to develop material. If I work on this I know there's a good band that's going to play it. Some of the current big band writing for me is like wrapping things up in this lush frosting, and it turns out there is no cake beneath the frosting. For me, the big band composers I loved always started with a strong tune, folks like Duke, Quincy, and Gil Evans.  In that spirit, these are all small group pieces I expanded and had test-driven by the ESO."
Born and raised in Vancouver, Zilber grew up in an art-steeped family. His father was a playwright and longtime professor of creative writing at the University of British Columbia and his mother had been a ballet dancer in New York City, where the two met and fell in love before moving to Canada. He got his start on the thriving British Columbia jazz scene, and at 18 lit out for Boston to study at New England Conservatory. He eventually earned a PhD in composition from NYU, but a good deal of his "post-graduate" musical studies took place on the bandstand playing alongside masters such as Dave Liebman, Dizzy Gillespie, Sonny Stitt, Miroslav Vitous, and Mick Goodrick, as well as contemporary peers like Rachel Z, James Genus, Dave Kikoski, Jimmy Earl and others. By the early 1990s, burnt out on what was then a rough and dangerous New York City, Zilber and his wife moved with their infant son to the East Bay, where he's played a central role in the region's jazz education scene as a founding faculty member of the California Jazz Conservatory (formerly known as the Jazzschool). Zilber's Advanced Jazz Workshop ensemble has won 14 Downbeat awards. 
While building a creative life in the Bay Area, Zilber has maintained his New York roots, never seeking to hide his divided allegiances. His 1999 album Two Coasts featured his two working bands, with the majority of the tracks by his New York quartet with pianist Rachel Z, bassist James Genus and drummer Rodney Holmes. His Bay Area quartet featured pianist John R Burr,  bassist Peter Barshay and co-leader drummer Steve Smith. "For me it's always been a negotiation," Zilber says. "I've always had both coasts in my heart. Both sides are me." 
Rather than resolving the coastal "conflict", East West – Music for Big Bands embraces multiplicity. It's not either/or, it's and/also. It's beauty AND burn, intense swing AND sweet balladry, all united under Zilber's commanding and ever expanding creative purview. 
Andrew Gilbert, Berkeley California
(A Los Angeles native based in the Berkeley area since 1996, Andrew Gilbert covers jazz, international music and dance for KQED's California Report, The Mercury News, San Francisco Chronicle, Berkeleyside and other publications).