Hot off the presses, here we go. My new release, co-led with Drumming giant Mike Clark, on Sunnyside Records of New York, and featuring Bay Area stellar swingers Matt Clark and Peter Barshay.  Done live in-studio in the same room  (no punches or redos) at Oakland's own 25th Street Recording.  "Seriously swinging free-range jazz" is what we played and is what you get.  As of July 16, the second most added Jazz Record in the country on Jazz Radio.
Really proud of this one, and what a nice way to re-enter the world after the pandemic!
You can check out and get all the tracks here: https://sunnysiderecords.bandcamp.com/album/mike-drop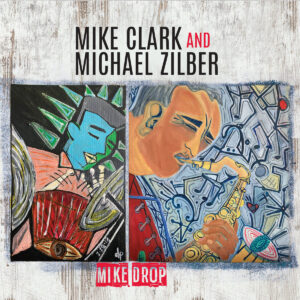 Sometimes there are musicians who seem to be fated to collaborate. They can come from different places and, even different generations, but their connection will be immediate and deep. This is the type of relationship that has developed between legendary drummer Mike Clark and stellar saxophonist Michael Zilber. Their friendship and musical cohesiveness can be felt immediately upon hearing their new recording, Mike Drop.
Originally from Northern California, Mike Clark has been one of the most celebrated drummers of his generation. Having made a name through his tenure with Herbie Hancock and the Headhunters, Clark left his home base in the Bay Area in 1979 to pursue opportunities in New York City and beyond. It proved to be the best move of his life, as this allowed him to play with his heroes, the true New York City cats.
Michael Zilber grew up in Vancouver, Canada but always felt deeply connected to New York City, coming from three generations of New Yorkers, including his parents, who met and fell in love in Manhattan. Zilber pursued his musical path in Boston before settling in the Big Apple for almost a decade. In 1992, a teaching opportunity shifted the saxophonist's attention to California, where he relocated and has been a fixture in the Bay Area jazz scene ever since.
New York City has a natural pull for jazz players and so it was for Zilber, who continued to visit the City regularly, playing gigs and sessions, immersed in that fierce and focused environment. It was during one of these trips that he was introduced to Clark by their mutual friend, Michael Barsimanto. Their appreciation for each other's skill sets was immediate, as Zilber's New York City hard driving style fit well with Clark's impeccably swinging and focused drum approach. Their sessions were also conversational and fun, not to mention a good hang.
In early 2018, Clark was booked to play the San Jose Winter Jazz Festival and capitalized on the opportunity to return to his old stomping grounds in the Bay by finding a number of gigs and clinics. Zilber joined Clark on the San Jose gig and they received a tremendous response. In addition, the booked a week's worth of gigs with a mutual friend bassist Peter Barshay and the talented pianist Matt Clark.
The situation was so opportune that Zilber suggested getting the quartet into 25th Street Recording in Oakland for an old school recording session, where they eschewed separation for a more live and relaxed feeling. The pieces that the group played were pieces they had played over the previous week, along with a couple of originals and arrangements by Zilber.
The recording begins with Zilber's ode to their virtuoso bass player, "Barshay Fly," which takes a bass line Barshay played on a gig as inspiration and creates a grooving piece for the ensembles' solo flights. Zilber reimagines elements from Sonny Rollins' iconic solo on "Tune Up" and a four-note motif from Thelonious Monk's "If I Were a Bell" and a bit of the bridge from "Ruby My Dear" to create "Sonny Monk (If I Were A)," a hard swinging piece that allows for a bit of solo trading between Clark and Zilber. Clark introduces McCoy Tyner's "Passion Dance" with an emphatic drum solo, setting the tone for a true quartet workout.
The quartet shows its romantic side on Duke Pearson's "You Know I Care" with wistful solos from all and Clark's warm, gauzy brush work. The Beatles are one of Zilber's passions, as he even leads a Fab Four centered funk band called John & Paul Reimagined. Here Zilber presents his tremendous arrangements of "Blackbird" and "Norwegian Wood," the former with a bouncing pulse, harmonic reworking and Zilber's poignant soprano while the latter finds the meditative tune traversing through six keys. These prove to be Clark's first attempts at playing the Beatles material and he owns them.
Wayne Shorter's gorgeous "Miyako" is haunting with Zilber's mournful soprano, Matt Clark's thoughtful keys and Mike Clark's sparkling cymbal work. Barshay's playful arrangement of Monk's "Monk's Dream" makes clear the joyous feel the quartet could blossom and provides a showcase for the bassist's outstanding solo voice. The recording concludes with Rodgers and Hart's "Falling In Love with Love," the well-loved standard taken at an infectious up-tempo swing only cementing the quartet's effervescent character.
The moving performances on Mike Clark and Michael Zilber's Mike Drop show that kindred spirits can be found no matter the distance. Though both Clark and Zilber came from the West Coast, they found their connection in a love of the serious soul of one of New York City's distinctive styles: a seriously swinging, free range jazz.
credits
released July 16, 2021
Mike Clark – drums
Michael Zilber – tenor & soprano saxophones
Matt Clark – piano
Peter Barshay – bass