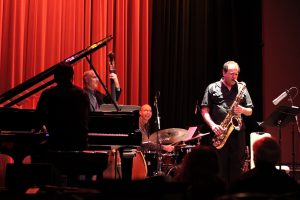 John Shifflett was unique – not pretty unique, very unique or really unique, but unique in the true meaning of the word.  He was my musical friend for over 20 years, and bizarrely enough, the first time we played, we were both on a big band rehearsal in Oakland, a couple of years after I moved out from New York. I say bizarrely, because John and I never played a big band gig or rehearsal together again, NOT ONCE, despite several hundred gigs, 6 CDs and a bunch of rehearsals and sessions. 
I played occasional gigs with John w Andre Bush, Paul Nagel and others, and by 1998, I knew he and his partner in crime Nagel were ideal choices to join a quartet I co-led with the great Steve Smith. John stayed with that group until Steve moved away 5 years later, including an amazing tour of Canada with Dave Liebman, playing Monterey and a CD documenting the group.  He also joined Nagel and Amendola on a live record that Liebman and I did at the jazzschool, joined me on several occasions in Vancouver for festival and club hits, played in the group Zilberella with Susan Muscarella, Tim Bulkley and me for 2 years, and, for the last 10, he and the other side of his musical heartbeat, Jason Lewis, were an indispensable part of the quartet I co-lead with guitar great John Stowell.  One of my fondest memories is the 10 summers we all did co-teaching the advanced summer intensive at the jazzschool, John, Jason, Peter Horvath and me always being there.  It was always the best and most fun week of teaching I did all year, thanks to John and the others.

So whether it was with Steve Smith and Nagel, Muscarella and Tim Bulkley, Liebman, Amendola, Stowell, and of course Jason, it really didn't matter, John always brought more soul and swing and musicality and joy and solid choices to the proceedings than any of us had a right to expect.  He was a truly great musician, ALWAYS putting the music first, and while he had a deep and subtle understanding of harmony, melody and rhythm, the thing that he brought that every great musician I have ever heard or played with has is the CRY, that reaching down deep into the most vibrant part of the heart. Utterly without ego, but powerful and with conviction. That was John Shifflett.  Sometimes, when he was really digging a moment, he would even vocalize that cry behind you as you played. 
It was almost impossible to pick among the dozens of songs we recorded together, but the two I settled on are from the last CD we did together with John Stowell and Jason Lewis. The songs are 2 I wrote, Basement Blues and Stowell in Heart.  Basement Blues was written, in part, for John, one of the very few times I ever gave him a written bass line, because it reminded me of what he might have done. Stowell in Heart is on there because, while John was a reluctant soloist, he was a beautiful one, and this represents the kind of solo magic he could spin when he had the space.  There is not a musician on the planet who has been there for more of my happiest musical moments the past 20 or so years, and like all of you, I will miss his sound terribly much. So long, John, Michael Zilber